Miss Rajasthan 2021 - Miss Mansi Rathore
Mansi Rathore, the winner of Miss Rajasthan 2021. She is a 21 years old pursuing Bachelor of Education and did her graduation from Kanoria Girls College.
She is Brand Ambassador of Jaipur Smart City Limited ,Eat Right India , Vivo Rajasthan. With Vivo did many campaigns and shoots for the launch.
She is face of various shoots including First India News, Dainik Bhaskar, Rajasthan Patrika.
Show stopper for Aagman couture designer show.
The fashion and glamour hits her differently.And constantly invited as a chief guest to various institutions. Her output shows honesty, hard worker, consistency and enthusiastic. And she has keen interest in making best out of the waste.
The one line that boost and motivates her is "everything happens for a reason"
Her aim of life is to live every moment and do experiments in grooming process. She is always up to learn new things.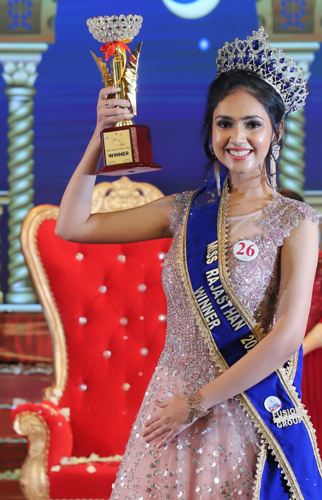 Miss Rajasthan 2020 - Miss Khushi Ajwani
Khushi Ajwani, Miss Rajasthan 2020 and also the finalist of Campus Princess 2020 is a 20 year old student of Psychology working in the field of Mental Health Awareness.
Her hobbies include reading books, playing badminton and gymming to name a few.
She comes from a family where she has always been taught to be hardworking, disciplined, passionate, and dedicated towards her goals. She is an optimistic girl who has been raised with a strong mindset to be an independent women.
One of her goals is to represent India at an international level and make her country proud.
From being an all rounder in school and college, to entering into the world of pageants, she believes that she has much more to learn and grow as a person and be the best version of herself.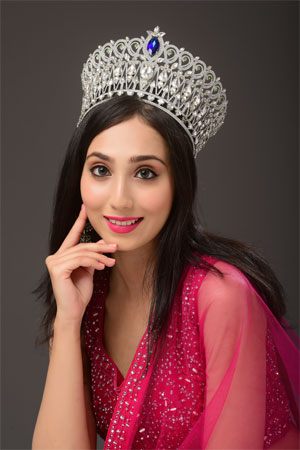 Miss Rajasthan 2019 - Miss Kanchan Khatana
She has represented her own country India and made her position in Top 10 among 65 countries in Miss Global Tourism Gala 2019 which was held in China.
She was selected in Miss Diva Universe 2020 state finalist.
She has also bagged the subtitles of Miss best body and Top model in Glamanand Supermodel India 2019.
Her personality is where she aces, known for her kindness and maturity. She has done many renowned rampwalk shows and shoots for big brands. Along with being a model, she has keen interest in Fitness.
She believes in hardwork, determination and loyalty towards her work. She is looking forward to spread positivity and happiness wherever she goes.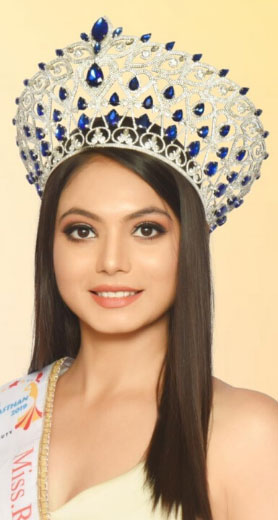 Miss Rajasthan 2018 - Miss Aanchal bohra
Aanchal bohra , the winner of Miss Rajasthan 2018 is a optimistic girl who has been constantly working as a gem and spreading positivity and happiness everywhere she go. She is pursuing Bachelors in Business Administration from Jaipur National University. She is a versatile personality. After Miss Rajasthan 2018, she also won a national beauty pageant "Miss Indian Diva 2018" held in Delhi. She is a music lover and play guitar and piano. She is constantly been invited by various institutions and companies as a guest/judge. She believes in hardwork, honesty, peace and prosperity.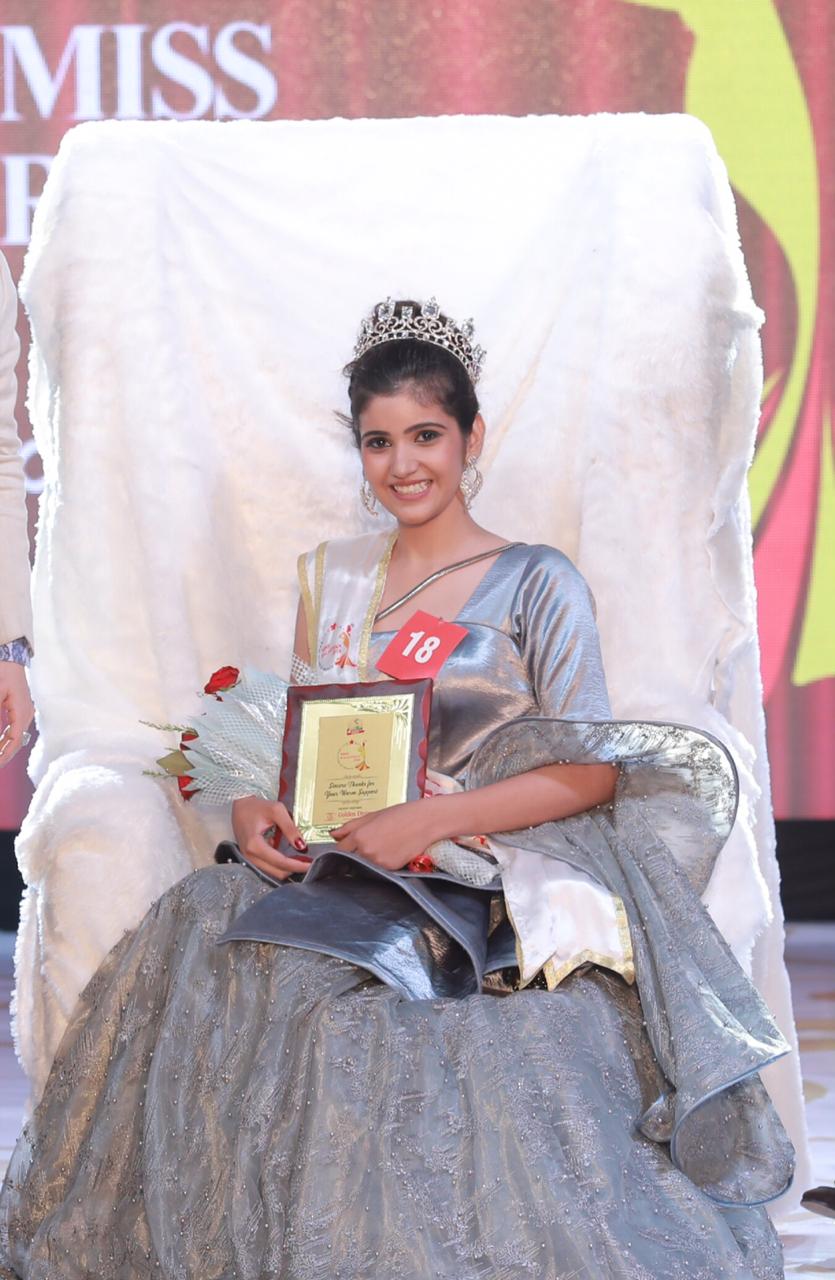 Miss Rajasthan 2017 - Miss Simran Sharma
Simran Sharma won the title of Miss Rajasthan 2017 & also won Miss Flawless Skin 2017 subtitle.

She recently got the title of Miss Grand India 2020 & she will represent India at Miss Grand International which will be held at Bangkok, Thailand.

Her othe achievements are-
State finalist of Miss Diva Universe 2019
Title holder of Global Supermodel India 2018 &
Miss Beautiful Skin 2018.

Miss India Multinational 2018
Miss Radiant Skin 2018

Miss Multinational 2018 (International Beauty pageant)
Miss Multinational Beauty with Brain 2018
Miss Multinational Best National Costume 2018.

1st runner up of Miss Indian Diva 2017
Awarded as Yuwa Ratna Award 2018
Awarded as Rajasthan Gaurav 2019.
Awarded as Sujangarh Gaurav 2018.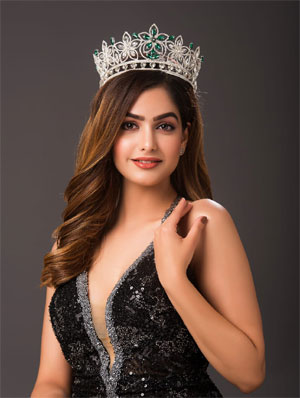 Miss Rajasthan 2016 - Miss Geetannjli
MISS Rajasthan 2016

Miss global charity queen India 2018

Represented India and Won 2nd position amongst 60 shortlisted contestants all over the world, titled as
"1st Princess at Miss Queen of Globe International 2017"
in Lesotho, South Africa

Represented Rajasthan at Miss India Queen of Queens 2017 and Won the title of
"Miss India Queen of Globe International 2017"
"Miss India queen of Queens 2017 1st runner up 2017" In Mumbai,India

Crowned as Miss Desert Rajasthan 2014
(winner amongst 80 shortlisted contestants all over Rajasthan)
Organised by Big boss studio in association with ETV Rajasthan.

Crowned as "Miss Rajasthan"
(Winner amongst 26 Shortlisted contestants all over Rajasthan)
in August 2016

Represented Rajasthan at
"Fbb Colors Femina Miss India West 2017"(amongst 12 shortlisted contestants all over west India)
Won the Title of Bata Miss Rampwalk
In Pune, Maharashtra

Represented Rajasthan at
"Fbb Femina Miss India Delhi 2016"
(Amongst 15 shortlisted contestant from all over East India)
In New Delhi, India

Represented Rajasthan at
Femina Style Diva West 2016.
(Amongst 15 shortlisted contestants from all over west India)
In Pune, Maharashtra.

Represented Rajasthan
Semifinalist at Miss Diva(Miss India Universe 2016)
Made it to top 26 all over India.
In Mumbai, Maharashtra.

Recipient:
-23rd "Rajasthan Gaurav Award" on 16th December 2017.
For Representing Rajasthan in Maximum number of Pageants.
-Women Achievers Award" on Women's Day 2017
Participated in various Fashion Weeks and shows of numerous brands of India like Volvo Cars, TBZ jewellers, Indus Pride, Kingfisher Ultra, Gitanjali jewellers, Max Lifestyle, Ponds, Pondicherry Fashion Week, Coimbatore Fashion Week, Chandigarh Fashion week, Max Fashion show, INIFD Chandigarh, Amor Glitz Ahemdabad etc during last 3 years also played lead role in Video albums.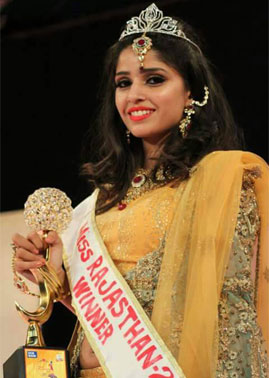 Location: Vidhyadhar Nagar, Jaipur
WhatsApp : +91 9314612168